Aranjepack makes it easier to get a computer set up after operating system (re)installation by packaging together useful applications. Most (but not all) applications can be installed without an internet connection.
Many applications are now in 64-bits.
Current Version: 3.22.0.0.
Application Category: batch-installer
Last built:
Supported Windows versions: Windows 10+.
By: Jacob Taylor.
Browsers
Plugins and Runtimes
Visual C++ redistributables (2012, 2013, 2015, 2017)
Accessories
7-zip
Adobe Reader
Everything search
Filezilla FTP Client
GNU Image Manipulation Program (GIMP)
Inkscape
Pidgin IM Client (with OTR)
qBittorrent
Recuva
Steam
Virtual CD Manager, by Microsoft
XNView
Coding Tools
Media Applications
Media Player Classic: Home Cinema
Foobar2000
System Tools
Autoruns
Process Explorer
Putty
Speccy
Teracopy
WinSCP
Wireshark
A screenshot of Aranjepack!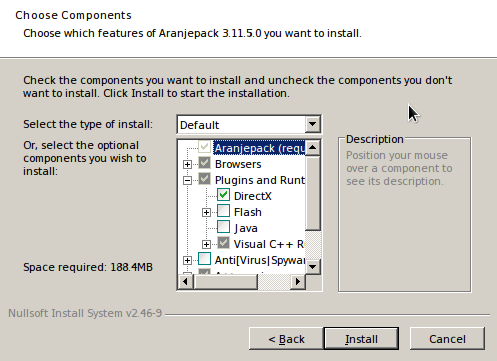 I started developing Aranjepack during the fall of my 10th grade year. It started because my friends (and I) were reinstalling our operating system (Windows XP) every few days. We would test some bad piece of software and destroy a perfectly good installation of Windows. It quickly became apparent that we would not change the way we tested software, so the process of reinstallation needed to be sped up. Enter Aranjepack.
The very first official release was over a gigabyte and had every tool you could imagine. Over time, I've cleaned up the program list and streamlined the code, but I've tried never to lose sight of the goal: Making it faster to reinstall Windows.
More recently I've begun distributing Aranjepack online, and at about the same time Ninite crashed onto the scene with an automated online version. But the main feature Aranjepack still has over Ninite is that it works entirely without internet. Once you download it, you can pop it on a flash-drive and update or set-up an entire fleet of computers.
My hope is that by using Aranjepack, you decrease the amount of time you spend downloading applications onto freshly installed computers. If that happens, I have succeeded. Thanks for taking the time to read this, I hope it gives you a bit more insight into the `Why?` of Aranjepack.